If you wish to view bigger photos when looking at the small square "thumbprint pictures," just click on the picture you wish to enlarge. You can then advance each photo by clicking on the side arrows. If you would like to save a photo for your personal collection, just click and hold onto the picture once enlarged to drag it onto your desktop. There you go…it is now yours to keep!
---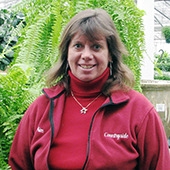 Kim Hartman from Countryside Garden in Mundelein spoke to our club on Thursday, February 20 about great things to plant. Her presentation was very well received as were the treats along with a beautiful table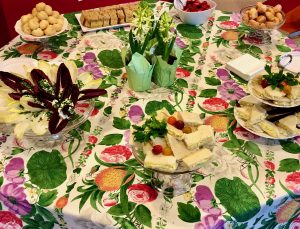 presentation provided by member, Chick Hayman!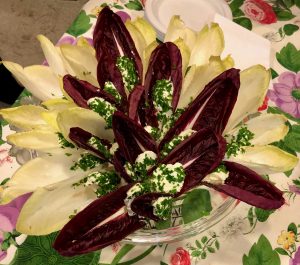 ---
"Give a Whoop!"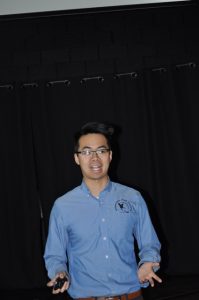 Thank you to our program chairs, Sylvia, Darlene, and Denise for helping our members give a whoop about cranes! Members attending this information session, led by a speaker from the International Crane Foundation, learned how to identify whooping cranes in addition to other varieties of this majestic bird–swans, herons, pelicans, egrets, wood storks, and more. Some cranes are very vulnerable to extinction due to the loss of habitat and other factors, so one of the missions of this organization is to provide education, one of the important steps needed to preserve these species.
If you were unable to attend this program, know that visiting this foundation in Baraboo, WI would be a terrific outing and it is not far from Madison, so including a stop to Wisconsin's capital would be very do-able. Every kind of crane in the world is on exhibit. See the homepage of our DGC website to watch a couple of video clips about this terrific international non-profit foundation so close to home. A grand opening of their improved grounds and facilities is scheduled for June 27, 2020: https://www.savingcranes.org/
---
The 2019 Deerpath Garden Club's Annual Holiday Luncheon was enjoyed by many members and guests–delicious food, an exciting raffle to raise funds for our community projects, beautiful surroundings all made for a great and festive afternoon; but nothing could top the opportunity to enjoy the companionship of good friends during the holidays.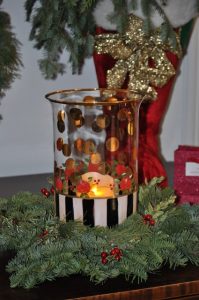 ---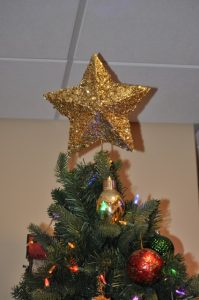 Decorating and singing Christmas carols at the nursing home followed by decorating at Glen Rowan House on Sheridan Road is a long-standing and cherished tradition. Thank you to the members who came to help. Many hands make light work and all had fun!
---
In November, members enjoyed a hands-on workshop led by Darlene Weber to make a fall harvest arrangement or a topiary centerpiece. Each creation was beautiful. Just look at the pride of ownership and creativity on Karen's face! And, who made those beautiful cookies? Let me guess…Cheryl Buccelli, our in-house master cookie baker!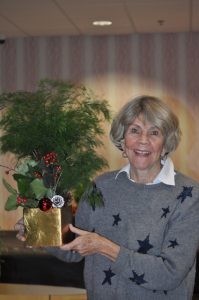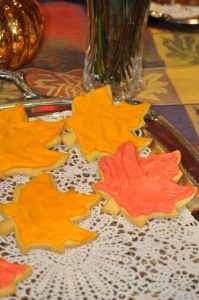 ---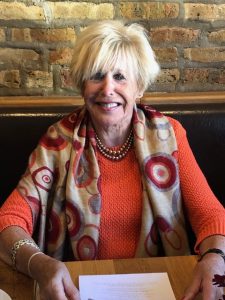 Thank you, Sylvia Dunbeck, for giving members a private tour of Graceland Cemetery. Graceland, final resting place of some of Chicago's most historic figures, beautiful statues and monuments, has recently been named an arboretum. Sylvia is a docent for the Chicago Architectural Foundation and is Graceland's favorite docent…and Deerpath Garden Club's favorite, too!
---
Nancy Ferch invited all members to visit the gardens of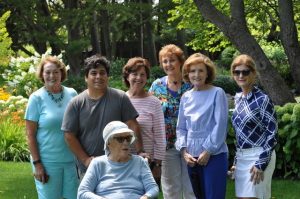 Ann Carton this past summer. It was not quite impromptu, but with members traveling or otherwise occupied, only a few lucky members were able to enjoy this outing. However, Nancy said members will be invited back next year!
---
---
Garden of Remembrance Dedication June 19, 2019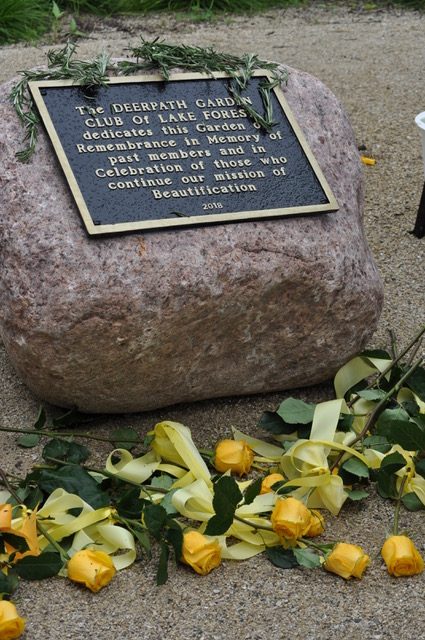 Despite the rain, members of the Deerpath Garden Club of Lake Forest celebrated the dedication of our newest garden, a Garden of Remembrance, across the street from the Telegraph Road Train Station. A natural garden,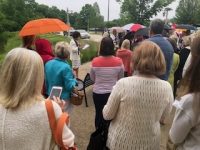 incorporating the scenic pond already onsite, provides an inviting spot for passersby to rest a few moments for contemplation and remembrance. Thank you to members Mary Carlson and Connie Maines for having the vision and providing the leadership to make this garden a reality. Mary and Connie worked collaboratively with the city and landscape architect, Craig Bergmann.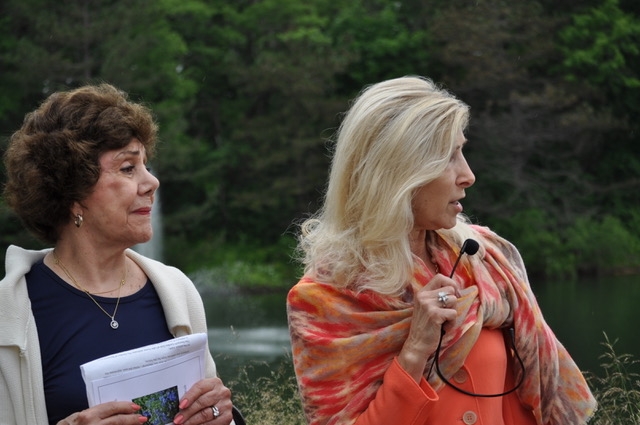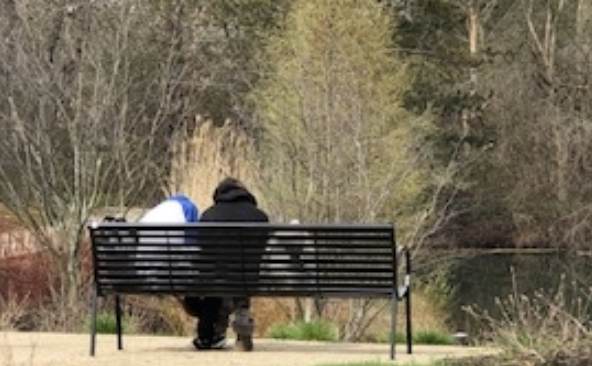 ---
Garden Walk–June 19, 2019
The festivities continued with a garden walk. It is our club's goal to sponsor a garden walk every other June. This year, our members enjoyed beautiful gardens looking lush and vibrant from all of the rain! The picture to the right just about sums up the weather during the walk, but that did not stop anyone from having a good time!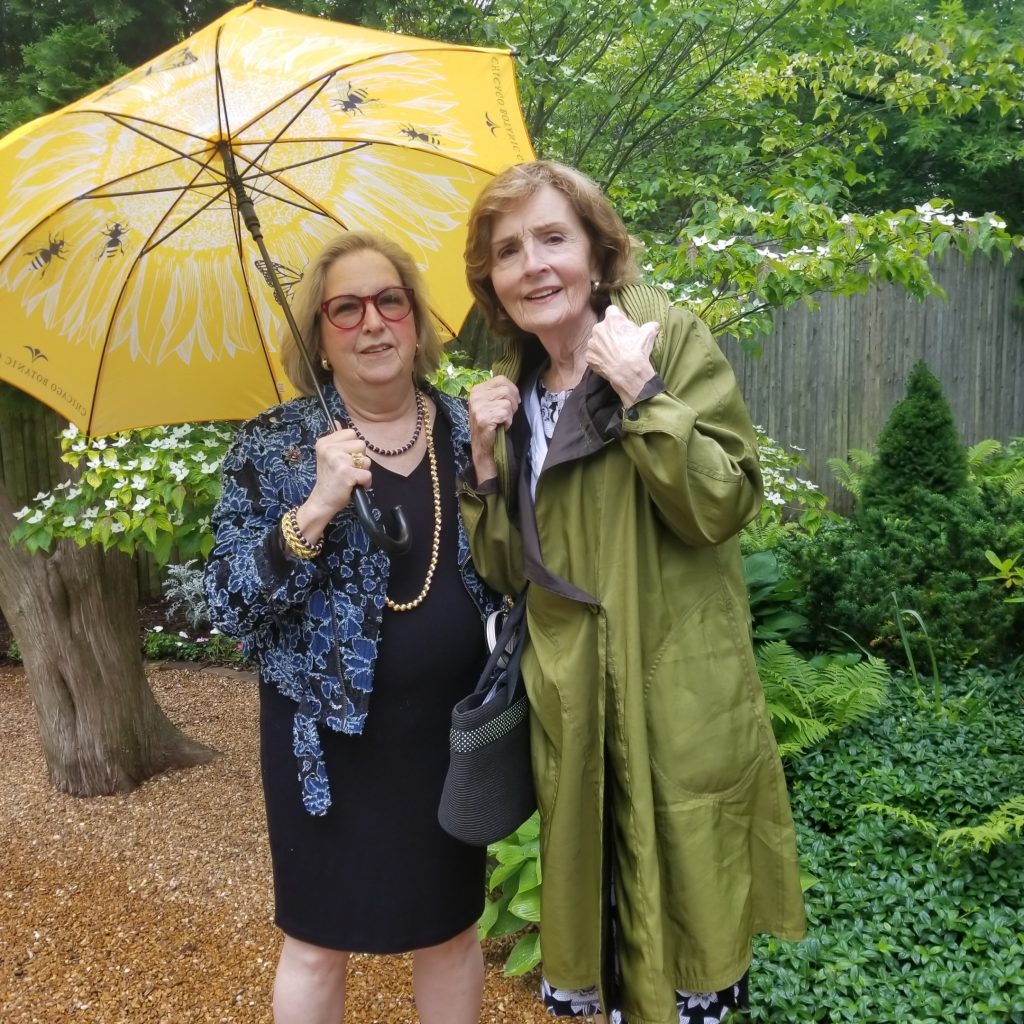 ---
Annual Spring Luncheon–June 19, 2019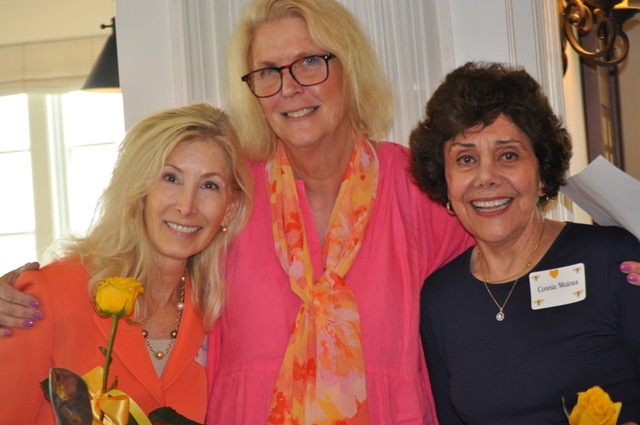 The day was capped by a lovely luncheon at Conway Golf Club, thanks to member Diane Skelly for being our host.  Our raffle was also held with wonderful prizes, and while always entertaining, the funds raised serve a very serious purpose–to make our many projects possible, such as providing interns to Elawa Farms, beautifying the community with gardens, and more. Our club president, Cindy Ramadan, recognized the anniversaries of many members. This year, Cindy awarded the "Golden Trowel" to Mary Carlson and Connie Maines for their hard work for the club's philanthropic projects, especially this year for overseeing the installation of our new Garden of Remembrance.
---
Waking Our Garden!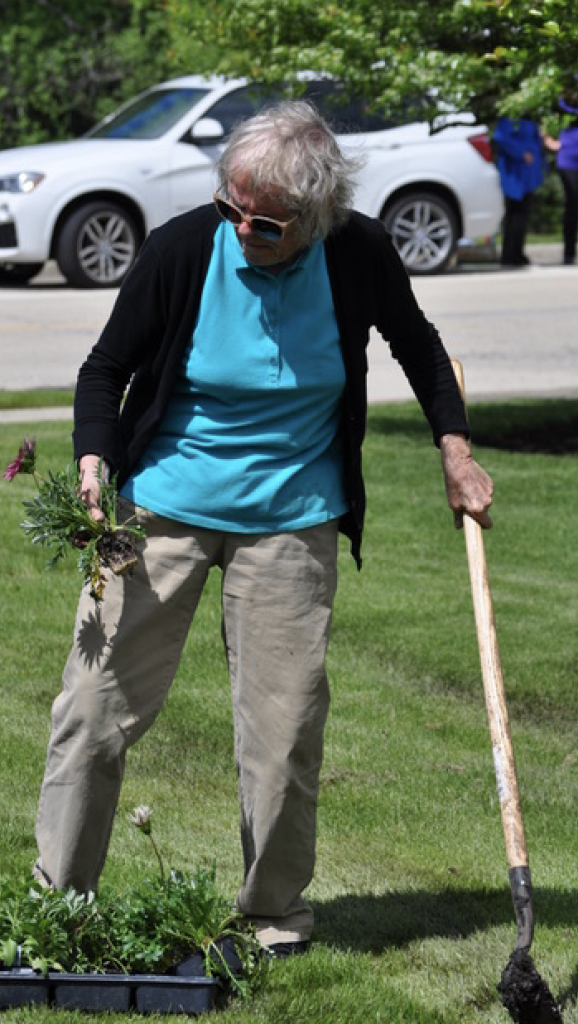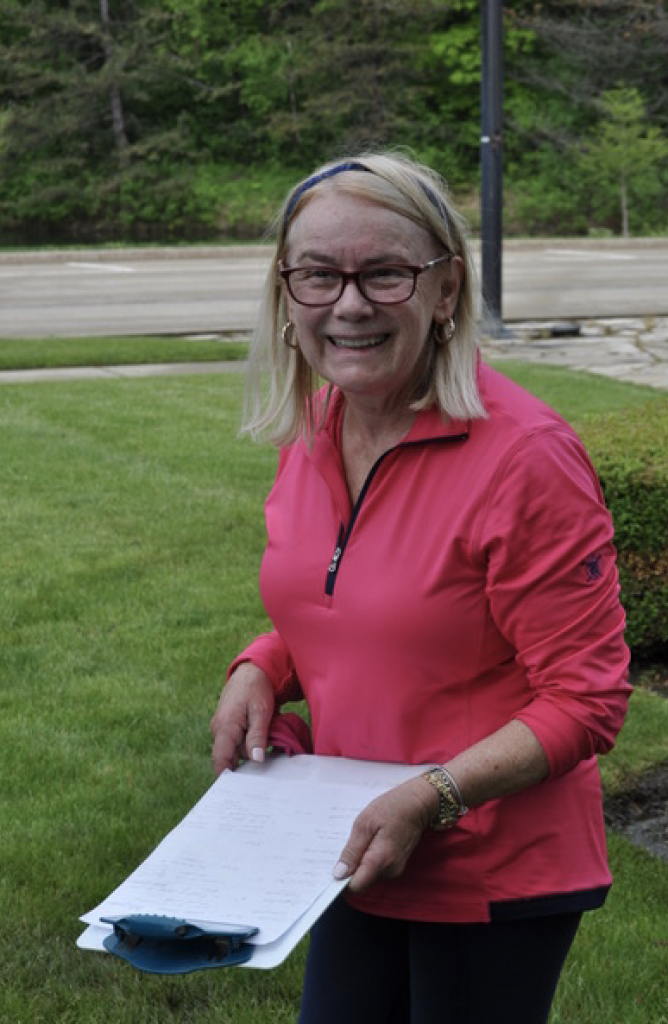 Woo Hoo! Many hands make light work. A special thanks to Garden Co-Chairs, Sharon Twyman and Terry Wright, along with their committee members for choosing the plantings this year, arranging with the city to do their part, and for organizing our planting day to make it easy and fun…despite the mud from our excessively rainy spring.
---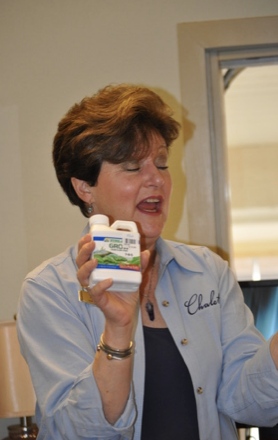 We began our spring meeting with Jennifer Brennan, Horticulturist at Chalet Nursery. Jennifer gave us wonderful suggestions for beautifying our homes with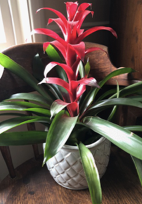 indoor plants, which also clean the air of toxins. What a wonderful benefit! And, all attendees received a 20% discount coupon for purchases made that day, such as this bromeliad, placed in our bedroom to produce more oxygen at night. To see a printable copy of Jennifer's handout which listed plants by name,
click here
.
---
Our Annual Holiday Luncheon at Knollwood Club on December 5 was enjoyed by all. A special thank you to all who worked hard to create a festive and warm party. Marcia Moore was one of the winners of the raffle surprises. Next year, this could be you!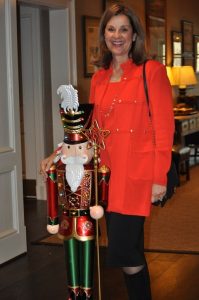 ---
Decorating Glen Rowan for Christmas
Another holiday tradition is decorating Glen Rowan and Balmoral for the holidays. It was a smaller group this year as the recent blizzard cancelled the original date and it had to be rescheduled.
---
Making Holiday Baskets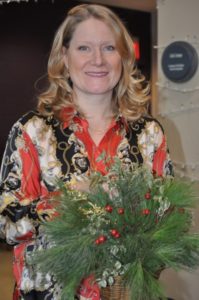 Thank you to Program Chairs Barb Moore and Cheryl Buccelli for planning our workshop to make winter/holiday baskets. Cheryl did a great job choosing all elements of live and decorative materials and organizing these so members could just have fun designing arrangements.
Farm to Table Field Trip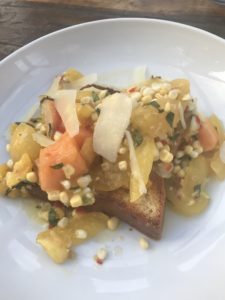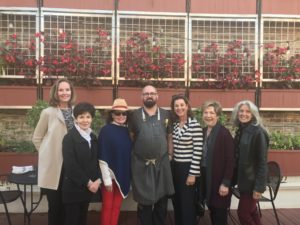 ---
Lake Forest Place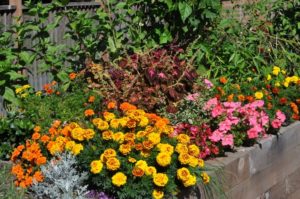 The September 27th meeting was held at the lovely home of Barbara Reidy at Lake Forest Place. After the meeting, the group toured the common garden enjoyed by residents. Thank you, Sherri Nichols and Cheryl Buccelli for taking these photos!
---
Welcome Back Breakfast at the Deerpath Inn
August 30, 2018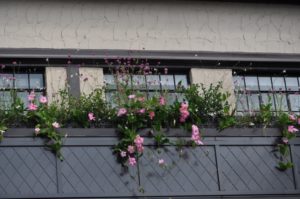 ---
On June 28, our club members and their guests enjoyed a delightful luncheon at Conway Golf Club. We are very grateful to our hostess, Diane Skelly, for sponsoring us and to JoAnne Ehrenberg and her committee for planning this event! We spent a beautiful afternoon celebrating our club's accomplishments this past year. And, lucky Karen Angelbeck won the big prize–a beautiful swan planter designed and filled by our own talented Cathy Douglas. (Next year, plan to buy more raffle tickets and maybe you can win the big prize!)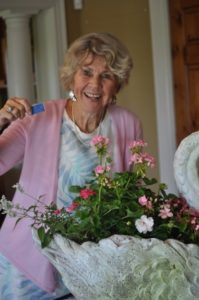 ---
Planting the West Train Station Garden on Telegraph Road is Always a Club Highlight!
Kudos to Sharon and Terry along with their committee for choosing beautiful plants and organizing our tasks! Thank you, too, to Cathy Douglas for planting the urns…still to grow into their full summer glory. And, thanks to Sherri Nichols for her photography skills this day and all year!
---
Random Acts of Flowers…Our Volunteers Made Bouquets for Others, and Had Lots of Creative Fun!
---
A Visit to the Milwaukee Art Museum to see "Art in Bloom"
---
Making Herb and Floral Wreaths
with
Julie Whitehead from Whitehead Studios — January 25, 2018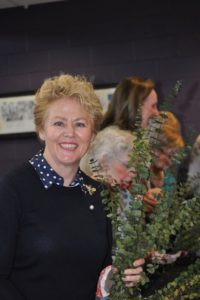 (Note: When photos are found in the gallery grid format, you can enlarge each picture by clicking on it. Also, click on the arrow to advance to the next photo.)
---
A BIG Thank you to Jan and Mimi for planning a truly festive, entertaining, and delicious luncheon at the Shore Acres Country Club in Lake Bluff. We were also charmed by sunny and enthusiastic  Katie Ford, who demonstrated making three very beautiful and festive holiday floral arrangements. Our time was capped by a lively auction conducted by Sylvia and our raffle winners. A good time was had by all.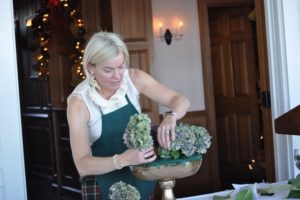 ---
---
Christmas Decorating at Balmoral and Glen Rowan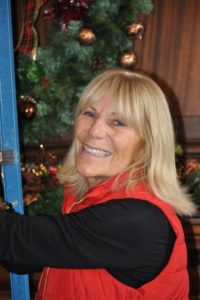 With a special thank you to JoAnne Ehrenberg for keeping everyone organized!
---
Breakfast Meeting at Inovasi in Lake Bluff

Good Food, Good Friends, and Good Program Cooking with Herbs!
A special thanks to Barb and Cheryl for arranging this program where we tasted the same dishes made with dried and fresh herbs. Which one do you think tasted better?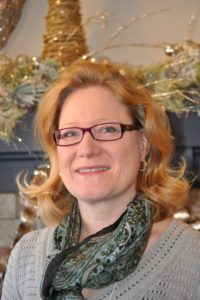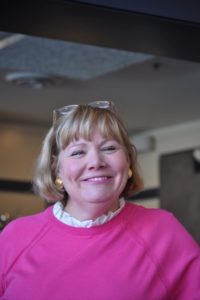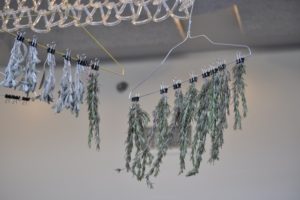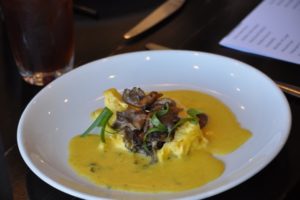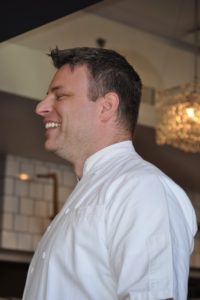 ---
---
Garden Girls Gone Wild & Show
Loads of Fun!
October 18, 2017
First, our Garden Show Vase Display–Some were pretty! Some were clever! Some were funny! And every one  demonstrated DPGC members' creative talents. (Just for fun, see if you can find the imposter.) And, of course, there were plenty of delicious treats! A special thanks to Jan and Mimi for planning this party and to Jan for hosting! We all had a great time.
Next the Wild Garden Girls Behaving as Wild as They Get!
---
September Garden Walk to the Lovely Gardens of the MacLean Family
---
A Tasty Breakfast in the Lovely Courtyard of the Deerpath Inn Provided a Wonderful Way to Begin Our 57th Season of Garden Friendship–August 2017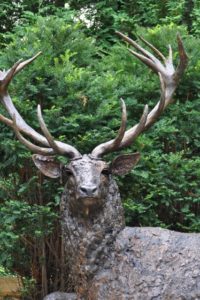 Garden Walk & Luncheon–June 22, 2017
Board Transition Meeting and Luncheon
Nina Koziol, Garden Historian, Author, and Gardener Extraordinaire…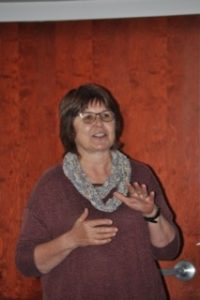 …provided a wonderful program on the History of Gardens: 1830 to Present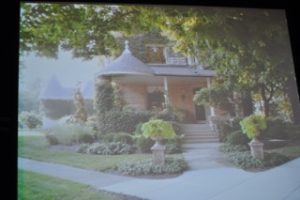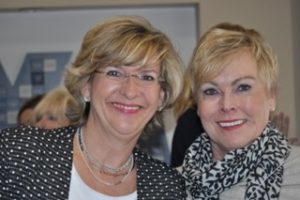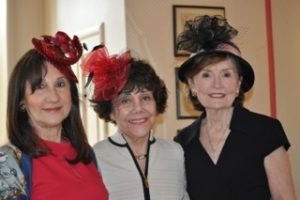 ---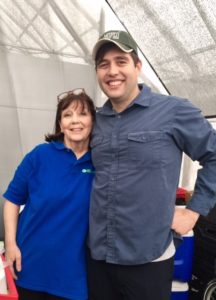 Liese Kant and her son, Ben Kant
Our Visit to Metropolitan Farms
Members visited Metropolitan Farm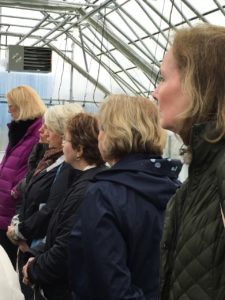 s, an URBAN AQUAPONICS FARM located in Chicago's Humboldt Park neighborhood. Lucky for us, we had an "in" with the CEO, Ben Kant, son of Member Liese Kant. We learned how Metro Farms raises a variety of lettuces and tilapia in an environment free of pesticides and chemicals. The result? Farm-fresh food, free of harmful substances, available for a great price to local restaurants and farmers' markets immediately after harvest. Checkout Ben's website to learn more about how aquaponics works. 
Thank you, Ben and Liese, and thank you to our wonderful program chairs for another entertaining and informative outing. 
---
A Trip to the Nielsen-Massey Vanilla Factory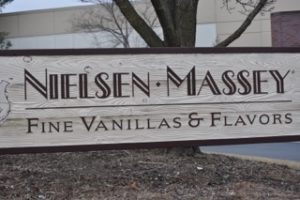 Vanilla comes from the orchid plant…in case you were wondering why garden club members would plan a visit to a vanilla factory!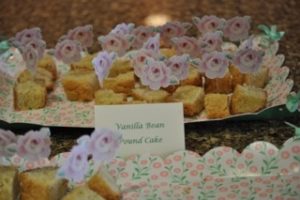 ---
---
Train Station Garden on Telegraph Road
Our new urns look spectacular! Many thanks to our Garden Co-Chairs, Denise Schlax and Mary Ann Hartnett, along with our many volunteers who tended the garden with care all season.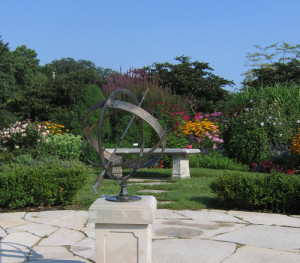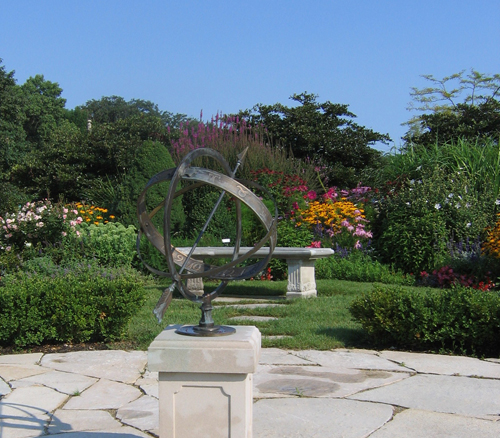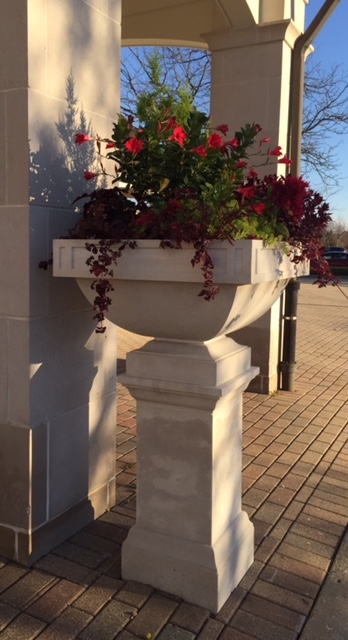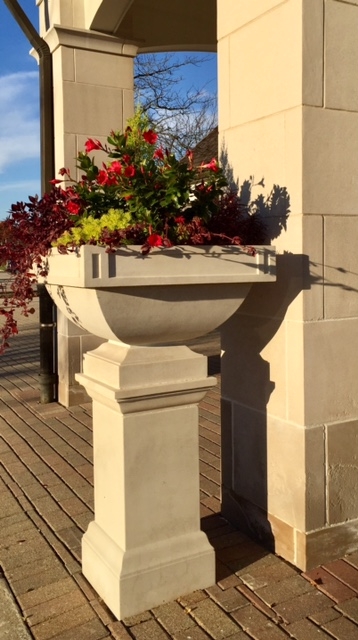 ---
---
Dedication of Urns at Telegraph Road Train Station Garden
June 2016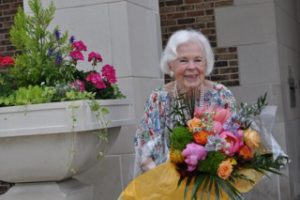 The Deerpath Garden Club of Lake Forest donated new urns to the City of Lake Forest that now grace the entrance to the Telegraph Road Train Station. The urns were dedicated to Life Member Priscilla Billington who was a most generous and dedicated friend. Our President, Cindy Ramadan, also remembered long-time member, the late Lucia Egan.
---
---
Blue Star Memorial Marker Dedication
West Lake Forest Train Station
August 28, 2014