Thanksgiving Ideas!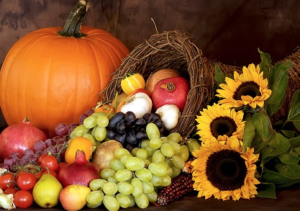 When celebrating Thanksgiving with friends in Tucson, our hostess decorated our plates with little bundles of herbs, each tied with a  festive ribbon–sprigs of parsley, sage, rosemary and thyme picked right from her garden. To begin our meal, she read what each plant represented. 
Parsley removes bitterness.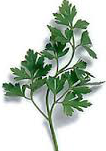 Rosemary  means love.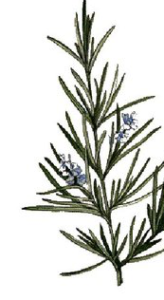 Sage brings wisdom.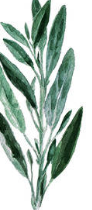 Thyme gives courage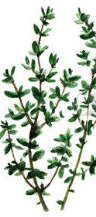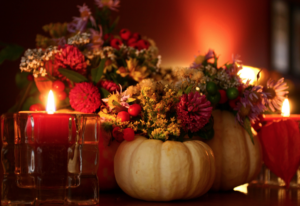 What a beautiful message to give one's guests on Thanksgiving Day and made me grateful for time spent with good friends! May you also be filled with gratitude this coming Thanksgiving.                                                          
 ~~Lynn Pruitt
Would you like to learn more tips from Lynn? Go to the Month-by-Month Gardening Tasks page under Garden Corner and read her advice for what to do in November and early December to ready your garden for winter. Thank you, Lynn Pruitt! Your expertise is highly valued by all.
---
While I can't take credit for this charming fall arrangement received as a gift from a dear friend, what made it especially clever was the use of the pumpkin stem inserted at a jaunty angle. If you make a Thanksgiving arrangement, try using the stem!
~~Judi Lindgren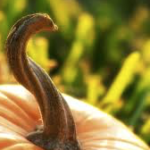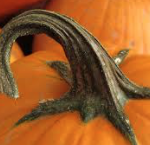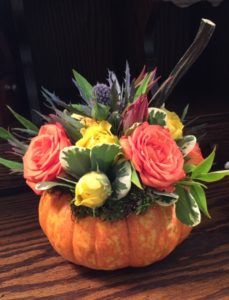 ---
It's Apple Season!




  by Cheryl Buccelli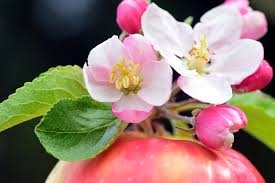 It's apple season! If you're from the Midwest, you're probably nostalgic about apple season. It was a time to enjoy a trip to your local orchard with your family. With the growing interest in sustainability, many people are looking into cultivating apple trees on their own property. Fruit trees flower beautifully; they provide nutritious fruit, and offer haven to all sorts of creatures. Our local conditions are keenly suited to apple trees. Surprisingly a year old seedling can bear fruit in as little as three years. Apple trees can be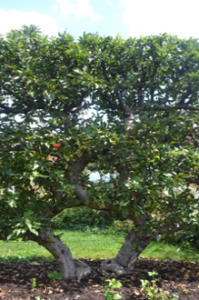 planted from seed, but most people use a grafted tree. Grafting allows a much hardier root system to supply the tree, resulting in larger, higher quality apples. Grafting also allows the grower to dwarf the trees so apples are easier to pick. You may choose to purchase grafted trees, or graft your own. The Chicago Botanic Gardens offers a class on grafting in the spring.

There are a number of beautiful espalier apple trees in the Chicago Botanic Garden. Espalier have a great deal of ornamental value, they can also be space saving. If you prefer, go natural. Here we have an example of a non-dwarfed apple tree thriving in Lake Forest.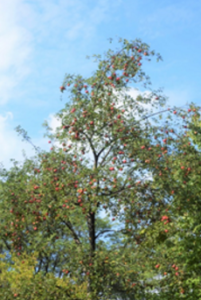 There are over 7,500 cultivars of the apple, there's sure to be ones suited to your taste and location. Taking your time and doing your research will surely pay off.  A wealth of information can be found on the Botanic Gardens website: https://chicagobotanic.org.
There isn't a better way to enjoy the fruit of the season than harvested from your own backyard. Both for its beauty and functionality, an apple tree is a pretty sweet deal. Whether you grow your own, pick some at a local orchard, buy at a Farmers' Market, or go to the store, try making an apple crisp. Here is a recipe to try. 
---
Apple Crisp
Ingredients
6  tart cooking apples, peeled (4 cups
½ cup brown sugar

½ cup white sugar
½ cup all-purpose flour
¾ cup oats
1 stick of cold butter
¾ teaspoon ground cinnamon
1 tsp salt
dash of ground nutmeg
Directions
Pinch crumble together and sprinkle over apples in 9X12 inch pan
Bake uncovered at 350ºF for 30 minutes
Enjoy!
By Cheryl Buccelli
For a printable copy, click here: Apple Crisp, by Cheryl Buccelli
---
Whimsy–The Sixth W!
We all can name the five Ws: WHO, WHAT, WHERE, WHEN, an
d WHY. Gardeners may want to add a SIXTH W to their repertoire: WHIMSY!

The dictionary describes whimsy as playful, fanciful, an object with a sense of humor. Every gardener wants to create a lovely setting that is a source of pleasure and pride. With study, planning, shopping, and planting, the scene is created. But there is usually more. Either by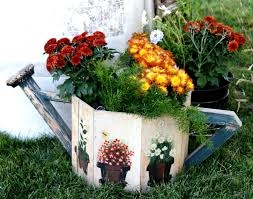 design or happenstance, we can add something of ourselves. This "something" is what makes a garden unique and how we often remember the gardens we visit.
One of the many pleasures I find when I visit gardens is this unique quality. Frequently I find it in whimsy.  I love a touch of whimsy!
Whimsy comes in many forms and can enhance any garden, if not overdone. It isn't always obvious and that can add to the enjoyment of a venue. I saw it during June's Garden Walk at Louellen's garden with a touch of red in every planting area and in her "man in the moon," aka "The Head Gardne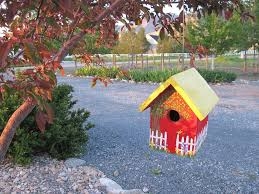 r." Brian assigned a name to his bonsai and in my garden, I have clay pot "people" and colorful birdhouses. 
Whimsy can include kaleidoscope spinners, funky animal and globe sculptures, topiaries, bottle trees, mosaics, unusual bird baths, a secret room, and…well, you get the idea!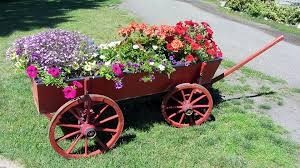 We all would love to have photos posted on our web site of members' garden whimsies. As creative as this group is, I'm sure there are great examples that everyone would enjoy. To get us started, the photo below is from Cindy Ramadan's garden–both beautiful and whimsical! You get an A+, Cindy!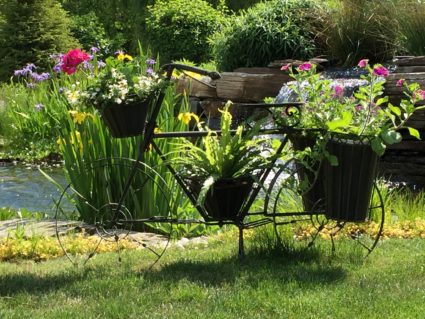 See you in the garden,
Connie Maines

---
Do deer invade your garden? While they look pretty and remind us how lucky we are to live surrounded by nature with acres of open lands nearby, no one wants deer to ruin their plants. Here is a recipe for home-made, natural, and inexpensive deer protection.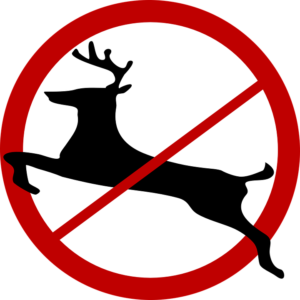 Recipe for Deer Protection
2 eggs
1 Tablespoon Tabasco
2 cups water
1-gallon sprayer
Mix eggs, Tabasco, and water in blender (or with a whisk but mix very well.) Then put mixture in a gallon sprayer and fill to the water line with more water.
Spray plants with mixture.  There is no smell and no residue.  Do this every 2-3 weeks.
by Connie Maines
---
Edible Deadheading?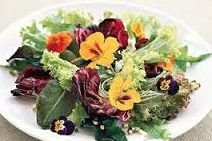 Summer's harvest in the vegetable garden is a special treat for those who have the perfect setting, but did you know that your ornamental gardens just might produce a few delectable treats to take to the kitchen table? Obviously, the trick is to know what flowers are truly edible, and be certain that they haven't been contaminated with pesticides or other chemicals. It's also good to know that some flowers have both edible and toxic parts! Who knew?
Many online sites will give you a myriad of charts identifying edible flowers, but here are a few interesting choices that go beyond Nasturtium:
Tuberous Begonias: This "citrus-sour" taste can be used in salads and as a garnish. The stems can be used in place of rhubarb. (Caution: If you have gout, rheumatism or kidney stones, beware that the flower and stems contain Oxalic acid—not good.)
Wax Begonias: Raw or cooked, they can have a slightly bitter after taste, but what a darling garnish!
Calendula Officinalis (also called Marigold): The pretty petals in golden-orange hues can be sprinkled on soups, pasta or rice, herbed butters and salads. Flavors have a range from spicy to bitter, tangy to peppery. ONLY THE PETALS ARE EDIBLE!
Carnations (also called Dianthus): Steep them in wine, decorate a cake, add color to salads or aspics. TAKE OFF THE BITTER WHITE BASE PART OF THE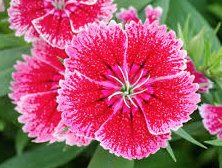 FLOWER FIRST. The scent is light clove-like, and nutmeg-like. (The French liquor, Chartreuse has made with this flower since the 17th century!)
Chrysanthemums: Blanch them first, then scatter the red, white, yellow or orange petals on a salad. TAKE OFF THE BITTER WHITE PART OF THE FLOWER. Flavor vinegars with the leaves. Flowers are tangy and slightly bitter tasting.
Fucia: Blooms are slightly acidic in flavor, but the explosive colors and elegant shape can really decorate a serving platter!
Basil: The pink, white or lavender flower is similar in taste to the leaf.
Lavender: My favorite! Do place a sprig into your glass of champagne! I add it to my lamb marinades. Custards and sorbets love lavender petals. (NOT TALKING ABOUT LAVENDER OIL, HERE! JUST THE FRESH PETALS OFF THE PLANT! WHO KNOWS WHAT IS IN THOSE BOTTLES, AND IF THE PLANTS WERE LOADED with PESTICIDES?!)
Sage: The violet blue flowers are milder in taste, and companion to beans and corn dishes– and can even be added to your pesto sauces. Of course, it works as a gorgeous garnish to roast chicken!
Mint: A slight minty taste that works well with Mid-Eastern dishes.
Savory, thyme and rosemary flowers are also edible…
It's good to know that you can decorate your platters with something lovely from the garden—and, no harm done if someone mistakenly eats it! Enjoy the bountiful SUMMER!
–Bonita Friedland
Click here for a printable copy of Edible Flowers: Edible Deadheads
Would you like to read more about this topic? Visit http://www.eattheweeds.com
---
BAKE THAT BOUNTY!
When your neighbor brings you a humongous zucchini, try making it into bread. Honest, it's much better than carrot cake or banana bread!
ZUCCHINI BREAD
(Makes 2 loaves)
Preheat oven to 350o. Grease 2 pans heavily with butter.
Using a mixer, thoroughly combine the following ingredients in a large bowl:
2 cups granulated sugar
3 cups all-purpose flour
1 teaspoon salt
1 teaspoon baking soda
1/4 teaspoon double-acting baking powder
4 teaspoons ground cinnamon
Add the following and mix well: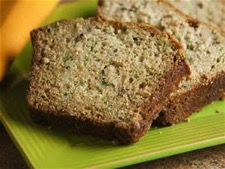 1 cup vegetable oil
1 tablespoon vanilla flavoring/extract
1 tablespoon almond flavoring/extract
3 eggs
2 cups peeled, grated, raw zucchini
OPTIONAL: 1 tablespoon fresh orange zest
Divide the batter into the two greased loaf pans. Bake in upper 1/2 of preheated 350o oven for 60 minutes, or until toothpick comes out clean.
Cool for 10-15 minutes with pans tipped to one side, then tip them to other side to cool for another 10-15 minutes. Loaves should then be able to be removed when pan is gently inverted. Let loaves continue to cool on one side — but they are delicious still warm!
Enjoy! And, thank Marge McClintock for the recipe!
Click here for a printable copy: Zucchini Bread
---
ANNUALS & BEDDING PLANTS
ARE COMING OUT OF THE CLOSET…
SO DRESS UP  YOUR SUMMER GARDEN!
By Bonita Friedland
Click here for a printer-friendly copy: Dress Up Your Summer Garden, by Bonita
A lush and glorious SPRING can thrust us into planting in the garden sooner than wisdom might dictate, and a lot of us feel the pull of strolling through nurseries in wild abandon. So many colorful goodies to relieve us of that blandness in our landscape! Flats of annuals and
 bedding plants that surely pack a punch! But, before we rush out to Pasquesi's or Chalet or Leider or Mini Earth, let us consider several caveats: 
It can be way too early to plant them into the ground. Temperatures are not stable before the last week of May! Do you have a place where you can nurture these flats and still keep them gorgeous for several weeks?

Have you thought about a plan that considers color impact? Placement?
The two major impact areas to consider are the PERENNIAL GARDEN and the FORMAL BED.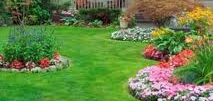 We can think of the PERENNIAL GARDEN as a stunningly expensive dress, and
the annuals as the pearls and earrings and handbag and shoes! CLUMPS of continuous color here and there, all summer long, are undoubtedly paramount to the look and feel of the garden environment, and the COLORS we choose can actually make a big difference.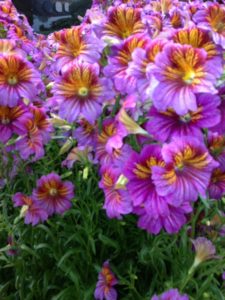 CLUMPS of annuals can be strategically placed around the stalwart perennials. (Hopefully you planned your garden that way, with spaces for the yearly additions!) Clumps should be just one color, and planted closer together to create the clump of color effect.
WARM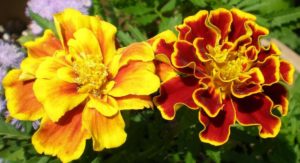 COLORS (yellow, gold, orange, red, hot pink) will liven up the area and make a dramatic effect. The warms make the flowers look CLOSER than they really are: warm colors planted at the front of the garden bed will make the garden look longer—especially if you place the COOL COLORS (blue, lavender, pastel pink) in the back!  Cool colors create a peaceful calm, and give the bed a deeper look in the background.
The FORMAL BED, which is entirely devoted to annual bedding plants, can be looked upon as the "jewelry collection" of the summer garden—expensive and dazzling! (Imagine any shape you choose: square, circle, oval, monogram, emoji!) We can absolutely go out of our minds pla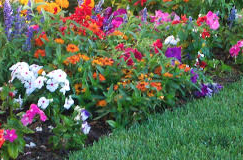 nning color and pattern schemes! And, the excitement of changing the color scheme each year makes it a new work of art for your landscape! Choose an impactful location where people will stop and "Ahhhhhhh!" Draw it on paper, make copies, and then with colored pencils, you can try different color schemes. Measure the area to get an approx. idea of how many flats you will need.  Always take into account the projected maturity height of ea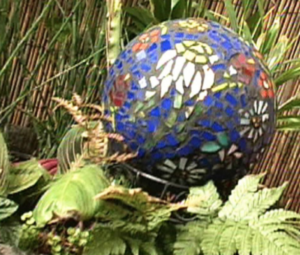 ch different plant.
The bedding scheme usually includes a row of EDGE PLANTS  (dwarf up to 8 inches), then several rows of GROUNDWORK PLANTS ( 8 inches to 2 feet) and then the CENTER SPECIMEN (tall plants with showy leaves or flowers, a birdbath, gazing ball or an urn.)
EDGE PLANTS: Dwarf versions of VERBENA, NASTURTIUM, PHLOX, DUSTY MILLER, IMPATIENS, ALYSSUM, PANSY, LOBELIA, AGERATUM AND FIBROUS BEGONIA.
GROUNDWORK PLANTS: PETUNIA, SALVIA, MARIGOLD, LARKSPUR, ASTER, ZINNIA AND PENSTEMMON.
CENTER SPECIMEN PLANTS: CANNA, GENTIAN SAGE SALVIA, STANDARD PELARGONIUM (GERANIUM) TALL SNAPDRAGGON, AMARANTHUS, STANDARD HIBISCUS.
Choose flats containing compact plants with bright green leaves, not a lot of blooms, but a lot of buds. Avoid plants with roots growing through the bottom, or "root bound." High bushy plants may look good in the flat, but will not look good when you separate and plant them!  Keep them out of direct sunlight but in a bright location until planting day.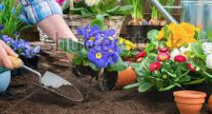 IDEAL PLANTING DAY: Cloudy, cool and downcast! If hot days are the norm, then plant in late afternoon. FERTILIZE every other week! (Don't look at the directions.
These plants are only going to be around for 3 months, so they can get much more fertilizer than prescribed!) Water daily!     

Enjoy!
Bonita Friedland
Click here for a printer-friendly copy: Dress Up Your Summer Garden, by Bonita
---

We may think "Irish" in the month of March, but if you're thinking Irish gardens, you can visit these beautiful spots year-round.
Here's a sampling of some you might enjoy:
The National Botanic Gardens – Dublin

Powerscourt, Enniskerry – Wicklow (about 35 minutes from Dublin)

Mount Usher, Ashford – a short drive from Dublin

Garinish Island Gardens, Bantry Bay – Cork

Kylemore Abbey Walled Garden – Galway
Submitted by Nancy Stack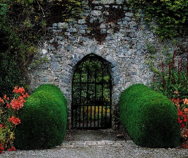 ---
"A tussie mussie? What is that?"
by Terry Wright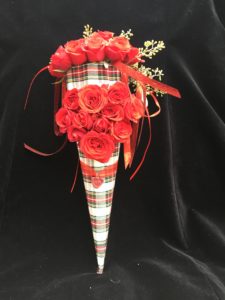 It is that time of year to pull out your arts and craft supplies to make a tussie mussie! "TUSSIE MUSSIE! What is that?" It is a small floral arrangement often held in your hand or a small vase and given to someone special. You might see it adorn someone's hat or attached to a dress. The tussie mussie can be traced back to the middle ages and was most popular during the Victorian Age. According to some, tussie mussies were held near the nose to avoid bad odors. Some called these small bouquets "nosegays." It was named tussie mussie by the queen of England in 1840. Proficiency in floral arts became a vital part of every young lady's education during that period.
The Tussie Mussie is an opportunity for you to express your love, concern, sympathy, emotional support and congratulations to your loved ones with a small bouquet of flowers and herbs.  This bouquet can be made with simply the choice of flowers you enjoy or if you want more meaning to your bouquet, you can pick flowers that are known to symbolize what it is you want to convey. For example some flowers symbolize friendship, some flowers symbolize love, joy and good health. My favorite rose is yellow, which can tell someone the joy they bring and the friendship you share.
Here are meanings of many of the flowers you love:
Red Roses                                 Romantic Love
White Rose                                A new baby or innocent debutante
Hosta                                          Devotion
Yarrow                                        Healing, cure
Fern                                             Fascination
Forget-me-nots                       True Love
Bleeding hearts                        Fidelity
Bridal Wreath Spirea              Victory
Lavender                                    Devotion
Mandeville                                Reckless, thoughtless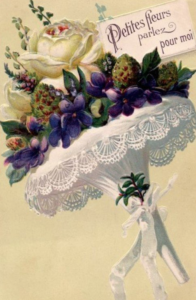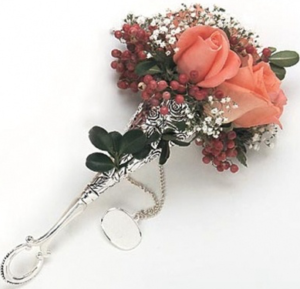 ---
January–A Time to Organize!
by Denise Schlax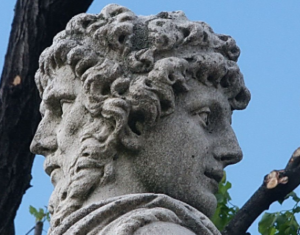 The month of January takes its name from Janus, the Roman god of gateways and journeys. He is often pictured looking both forward and backward at the same time.
January is a great month for getting organized and preparing for spring.
Here are a few tips!!
1. Leave snow in place as an insulator. If you must move it to prevent a plant from breaking, do so gently. Do not attempt to remove ice.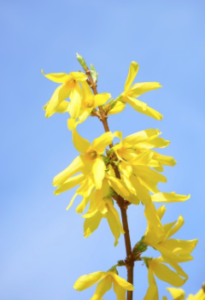 2. Bring spring flowering branches inside for forcing. Good choices are forsythia, pussy willow, jasmine, and flowering quince.
3. Protect perennials from freeze damage by covering with Christmas greenery as an extra layer of mulch.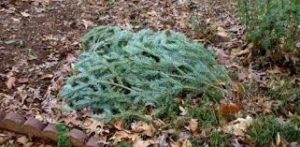 4. Brighten cold, gray days with blooms you have planted in decorative inside pots using chilled bulbs that have been stored in your refrigerator for several weeks at about 50 degrees. You can also plant bulbs that don't require chilling, such as paper white  narcissus.
5. Begin to sow seeds in  indoor flats for spring planting.
6. Add cooled fireplace ashes to your compost pile.
7. January is the perfect month for making a landscape diagram of your existing garden and begin planning for your next season's design.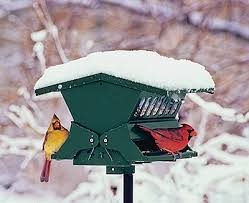 8. Don't forget to feed the birds!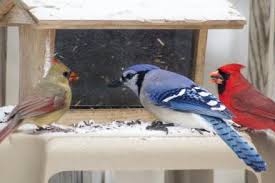 ---
The Williamsburg Kissing Ball
Illustrations and Directions by Bonita Friedland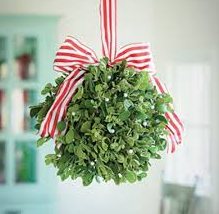 My last house had a front porch that simply demanded a hanging planter. Every SPRING I would stuff as many semi-shade loving specimens into the pot, along with every kind of tropical hanging vine I could find. For FALL, I replaced the annuals with chrysanthemums and aster, along with ornamental kales and long strands of Boston ivy. But bleak was my WINTER until I discovered the "Williamsburg Ball!" Known in Williamsburg, Virginia as the "kissing ball," this hanging sphere radiates with variations of fresh evergreens, pinecones, and on occasion, fruits such as apples, limes, nuts, and pomegranates–whatever! Weatherproof ribbon adds the finishing touch.
One year, my Williamsburg Ball lasted well into SPRING. I had removed the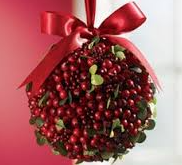 red ribbons, but couldn't bear to take down the still green ball. To our surprise, one day we noticed a little wren flying back and forth from the ball. Yes, there was a little nest inside the kissing ball! The ball soon began to turn rusty brown, but how could I remove it? I'm sure the neighbors wondered why this dead Christmas decoration was still hanging on the front porch!
Step 1: To start your KISSING BALL base, you will need a block of OASIS (florist foam) and some CHICKEN WIRE. The OASIS should be roughly one-third the diameter of the finished ball, so a finished ball of 18" requires a 6" square of OASIS. Clip the sharp corners of the OASIS and soak it in water for 30 minutes.
Step 2: Take a flat piece of chicken wire and carefully form it around the soaked OASIS. Lock it together with pliers. The OASIS is fragile when wet, so
handle with care. Add a long piece of wire to the top. This wire will be used to hang the ball while you work, so make it longer than you eventually will need. Find a place to work on your ball. I did it in my unfinished basement and tied it to one of the ceiling pipes. Keep it at eye level while you work. Now add another long wire to the bottom of the ball.   (This wire will eventually hold the bow and ribbon strands, so make it long enough to allow for the branches that will be radiating from the base.)
Step 3: Assemble your various evergreens on a table under the hanging base: SPRUCE, YEW, BOXWOOD, HOLLY, BALSAM, PINE, etc. (Use pine sparingly, since it has a tendency to give the ball a "wild" appearance.) Cut your greens to approximately 8" and push the freshly cut end into the wet OASIS to a depth of 2 inches. Place one at the top of the ball, one on each side, and then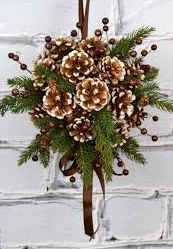 one on the bottom. Then continue skipping all around the ball to keep it even, until no OASIS or CHICKEN WIRE can be seen. Periodically step back from the ball to monitor the shape, keeping it round.
Step 4: Now that you have an actual ball, you can embellish it with pinecones, bows, fruit, etc. To secure a pinecone, wrap a wire stick around the middle, making sure the wire is hidden under the appendages, and push it into the ball. To secure nuts, hot glue each walnut to a thick wooden skewer and push it into the ball. Keep the ball snug: the pinecone should not be sticking out, but part of the sphere. Apples, pears, pomegranates can be prepared with wooden skewers and pressed into the ball. Fruit will periodically need to be replenished when it starts to look bad.
Step 5: Attach a large bow with streamers to the bottom wire for a festive touch. Hang the ball in its final location, but before you cut the excess top wire, take a walk to the street to determine if you need to make adjustments in height.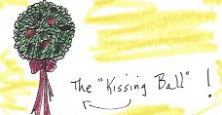 For printable directions, click here: http://deerpathgardenclub.org/wp-content/uploads/2016/03/The-Williamsburg-Ball.pdf
BE A BRIGHT BULB!

Try planting daffodil and other bulbs beneath your hosta leaves. When the daffodil or other bulb leaves start to become unsightly, they will be hidden under the emerging hosta leaves in the spring.

FIGHT ANY FUNGUS AMONG US!
Keep an eye out for black spot, powdery mildew, and other fungal diseases and treat them immediately.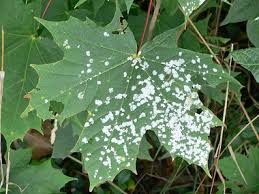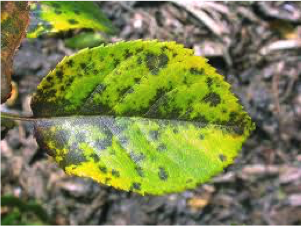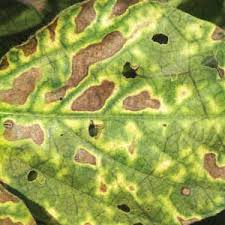 ---
---